Yesterday I did the last of my pre-holiday shopping and

errand running, along with just about everybody else in my part of Albuquerque, making the main streets and intersections packed and jammed.
The next to last stop on my agenda was my favorite health food store, the Vitamin Cottage. I remarked to the clerk that the store seemed like "an oasis of calm" compared to the madhouse outside.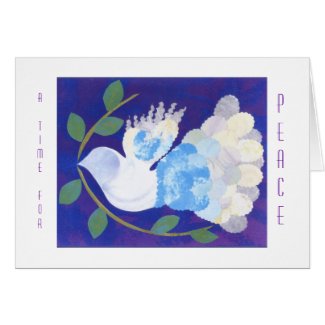 "A Time For Peace" Card by jan4insight
As I got back in my car, a pleasant-looking young woman of about 20 asked if she could wash my car windows to earn a little money. I was a little flummoxed - the windows actually needed washing but I was in a hurry to get to my next and last stop ( which was Target), so I told her I didn't have the time. She nodded but as she turned away it looked to me like she was trying not to cry.
Boy, I felt terrible for her.
Then as I maneuvered from the Vitamin Cottage into the back entrance to the Target parking lot (the two stores are back to back and share a driveway in the complex), I saw the same woman walking towards the main Target lot. So I pulled up beside her and asked if she'd still be willing to wash my windows. I was going to shop at Target and she could do it while I was there.
The look of relief on her face was like a ray of sunshine. I made some comment about how I hoped I could find a place to park (the lot was packed) and then she spotted someone leaving who was right ahead of us. I parked and she came up and got started while I was getting out of the car. When she pulled her cleaning materials out of the big purse she carried, I was impressed that she was unfolding sheets of newspaper, because not many people know that newspaper is the best thing for cleaning windows.
So, I gave her $2 and went off to do my shopping. When I got back to my car, my windows were nice and clean.
I'm happy that I was able to give someone a little help and a little boost. And I'll always wonder what her story was - what brought her to this point of needing to ask for useful work in a store parking lot?
When I pondered what might have brought her to this, I suspect that she might have been a single mother who perhaps had gotten laid off, and she was trying to raise the money to get something to make her child's Christmas a little brighter. Or perhaps she did have a minimum-wage job, but didn't earn enough to buy something nice for her child. Or maybe she just needed to buy food to get through the end of the month. There's a lot of that going around. In retrospect, I think perhaps being kind to her, and giving her the opportunity to do what she was asking to do, was the best thing I did to help her.
So my holiday message to one and all is - be kind, and extend a helping hand whenever and wherever possible. We never know the kind of struggles that someone might be going through, but we can all know when a little bit of help brings a smile that's like a ray of sunshine.
And by the way: Here are some great, inexpensive recipes for
homemade glass cleaning solutions
!