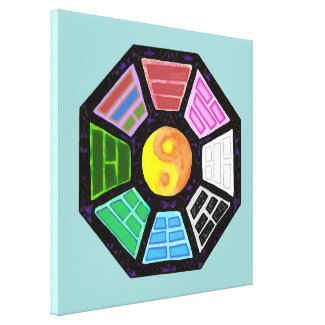 The Ba-gua, or Eight Directions, is one the more fundamental concepts in Feng Shui and all of the Chinese arts.
This colorful design is my painterly interpretation of the Feng Shui Ba-Gua, which is said to have developed from divinatory practices using tortoise shells. I find it fascinating that he wisdom encoded in the Ba-Gua became the foundation for all of the Chinese arts - and it began with a tortoiseshell:
I used a variety of real-life and digital painting techniques to create these stunning images, with a classic arrangement of the trigrams and color choices guided by the Black Hat School of Feng Shui. These are just two of the products in my Feng Shui-inspired Zazzle store,
TheElementalHome*
, which I opened earlier this year -- thereby fulfilling my dream of combining my artwork with my passion for Feng Shui. Do check it out! And read more about the
Traditional Bagua
plus the Black Hat version in the article at the link. It's one of the superlative articles I've been writing for SFGate.com in my new gig as a writer for DemandMedia.