Dear Readers: Like many of you, I've watched this week's events with amusement turning to nausea. I'm as much ashamed of my "side" as theirs. Here's the comment I wrote in reply to the article published by Sam Stein in today's Huffington Post: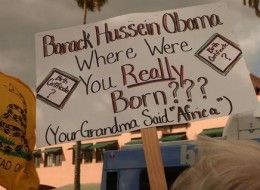 Okay, fellow liberals and progressives: I'm feeling like I need a shower after this week of crazy. The Tea-party protests are abhorrent in many ways. But the response from a large segment of our kind has not been much better.
Yes, they've been an easy target. Schadenfreude feels good after our long years of exile. I admit to joining in the fun: After hearing "love America or leave it" since my college days in the 60s, I couldn't resist my "Send them to Somalia" posts. (It's a perfect fit - no government and plenty of guns.)
But have we won any hearts or minds with our merciless mocking? Granted, most of those minds are not open to change - the biggest change they can't stomach is an African-American in the White House, as Janeane Garofalo recently observed on Countdown. Yet we're losing an opportunity: as this article so clearly states, moderates are turned off! Will they be turned on by the outpouring of shame we've dumped on what's left of their party? I think not.
So come on, it's time to grow up. We've praised President Obama for bringing adulthood to the White House; let's follow his model. Let's reclaim our liberal values of peace, tolerance, and inclusiveness from the poor showing we've made this week. How about reaching out now to a turned-off moderate? They might find some ideas worth considering, and we might find some more support for the direction we want our country to follow.
Read the Article at HuffingtonPost
.